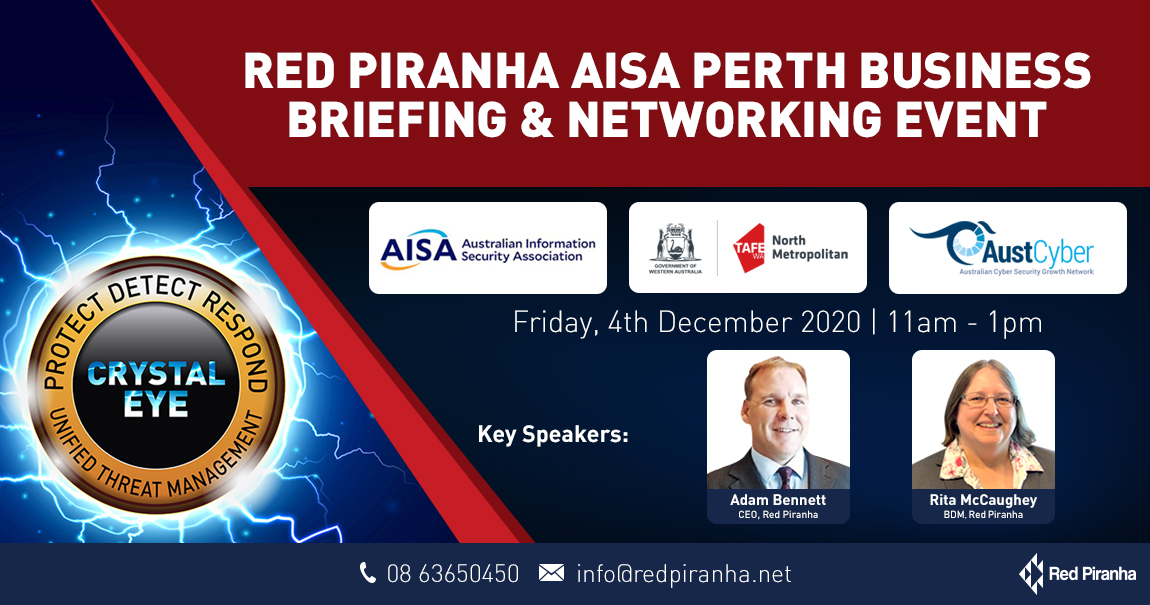 ---
We're proud to be in collaboration with AustCyber and North Metro TAFE for the upcoming Australian Information Security Association Cyber Summit occurring 4th December. 
Join us prior to the opening of the AISA Expo, as we launch our homegrown Crystal Eye XDR (Extended Detection and Response). Our comprehensive security platform provides your organisation with a complete solution which integrates:
Managed Detection & Response (MDR) 
Firewall; and 
Integrated Risk Management ecosystem. 
Securing your business from the cloud to end-point. One of the significant benefits of our XDR platform on top of the comprehensive security it provides; is the ease of deployment. Integrating all your security technologies into one easy to manage platform, allowing you to get back to business, with the peace of mind that your data is protected from cybercriminals.  
External Links: 
---
Event Details
---
What:   Red Piranha AISA Perth Business Briefing & Networking Event at the AISA Expo in Perth
Where:  Central TAFE - North Metropolitan TAFE East Perth, Building A (Go to central desk inside to be directed to Venue)
140 Royal St, East Perth WA 6000 
Parking at the Royal St CPP but better to leave your car and come by Bus which stops outside or Train (Claisebrook station)
Corner of Royal & Fielder Streets 
When:   Friday, 4th December 2020
Time: 11:00 AM - 1:00 PM AWST
Event Program:
Registration from 11:00AM to 11:15AM
Event from 11:15AM to 12:15PM
Followed by lunch and some time to roam before AISA expo kickoff at 1:00PM.
Hurry and register now! 
User's Timezone
Australia/Perth