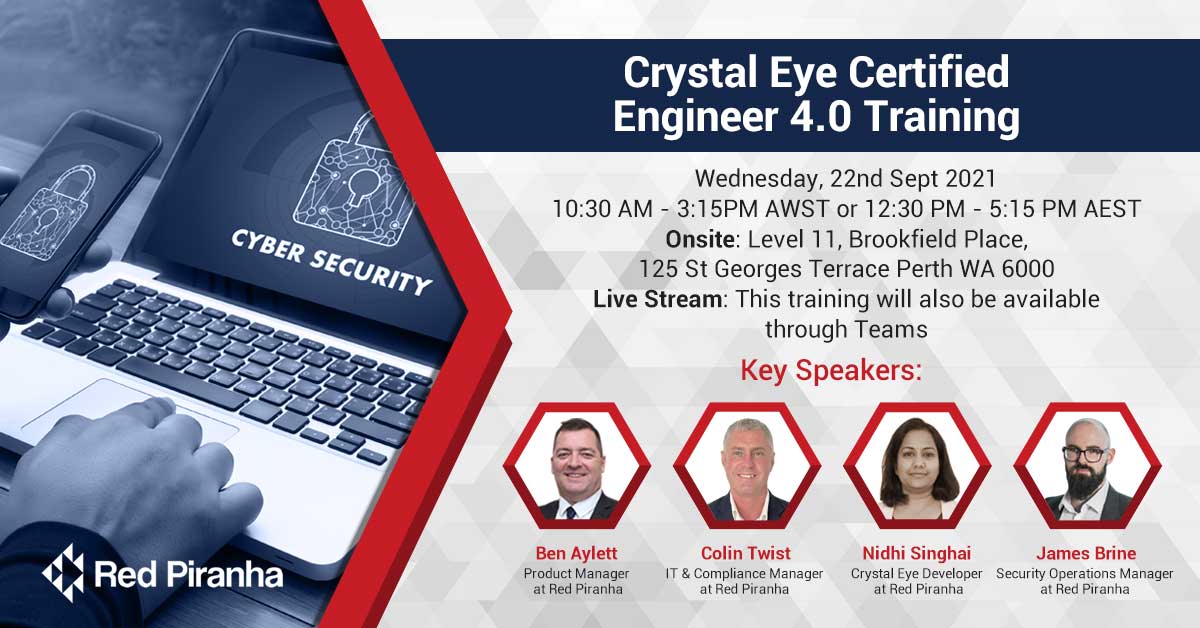 ---
Get a close-up view and personal introduction to our Crystal Eye Certified Engineer 4.0 Training.
---
Our team of experts will be delivering a variety of new content and introducing you to the new features that have been made available on Crystal Eye XDR 4.0.
The event will be both onsite and live streamed. This is your chance to get gain an in-depth understanding of Crystal Eye XDR 4.0 and a great opportunity for Q&A after each session.
---
Event Details
---
Where:
Onsite: Level 11, Brookfield Place, 125 St Georges Terrace, Perth WA 6000
Live Stream: Online via Teams - A link will be shared with you a day before the event for you to access the platform
When: Wednesday, 22nd September 2021
Time: 10:30 AM - 3:15 PM AWST
12:30 PM - 5:15 PM AEST
12:00 PM - 5:00 PM ACST
2:00 AM - 7:30 AM UTC
Event Program:
10:30 AWST/ 12:30 AEST Crystal Eye XDR Platform Overview and Orchestrate Integration
11:30 AWST/ 1:30 AEST Compliance and SLAs
12:15 AWST/ 2:15 AEST 15 minutes BREAK
12:30 AWST/ 2:30 AEST Secure Networking Module 1
1:30 AWST/ 3:30 AEST 15 minutes BREAK
1:45 AWST/ 3:45 AEST Secure Networking Module 2
2:15 AWST/ 4:15 AEST SecOps Operations: Best Practice and SWG Set Up
---
Key Speakers
---
Ben Aylett - Product Manager at Red Piranha
Colin Twist - IT & Compliance Manager at Red Piranha
Nidhi Singhai - Crystal Eye Developer at Red Piranha
James Brine - Security Operations Manager at Red Piranha