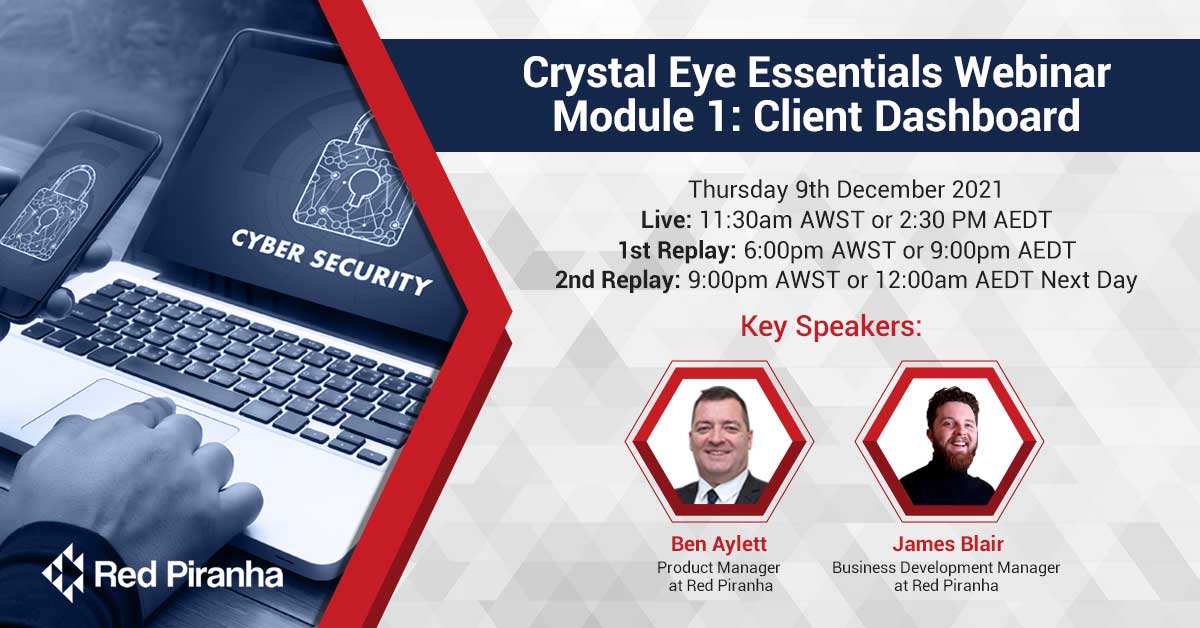 ---
Get your Crystal Eye Essentials Certificate by completing Module 1 and Module 2 training sessions.
The Crystal Eye Essentials Module 1 webinar gives you a chance to get a 'hands-on' introduction to our new Orchestrate Dashboard. The new dashboard has been built around you, with convenience and speed in mind. The latest updates include:
Updated responsive design.
Scheduled notifications.
Improved device management.
Keen to learn more? Make sure to register above for the upcoming Crystal Eye Essentials Module 1 training sessions.
---
Event Details
---
Where: Online
When: Thursday, 9th December 2021
Time: 11:30 AM - 12:30 PM AWST
02:30 PM - 03:30 PM AEDT
02:00 PM - 03:00 PM ACDT
03:30 AM - 04:30 AM UTC
International Scheduling:
Replay 1 - Thursday, 9th December 2021
Time: 06:00 PM - 07:00 PM AWST
09:00 PM - 10:00 PM AEDT
08:30 PM - 09:30 PM ACDT
10:00 AM - 11:00 AM UTC
Replay 2 - Thursday, 9th December 2021
Time: 09:00 PM - 10:00 PM AWST
12:00 AM - 01:00 AM AEDT Next day
11:30 PM - 12:30 AM ACDT
01:00 PM - 02:00 PM UTC
---
Key Presenters
---
Ben Aylett - Product Manager at Red Piranha
James Blair - Business Development Manager at Red Piranha