Where
Level 11 Brookfield Place, 125 St Georges Tce. Perth, WA 6000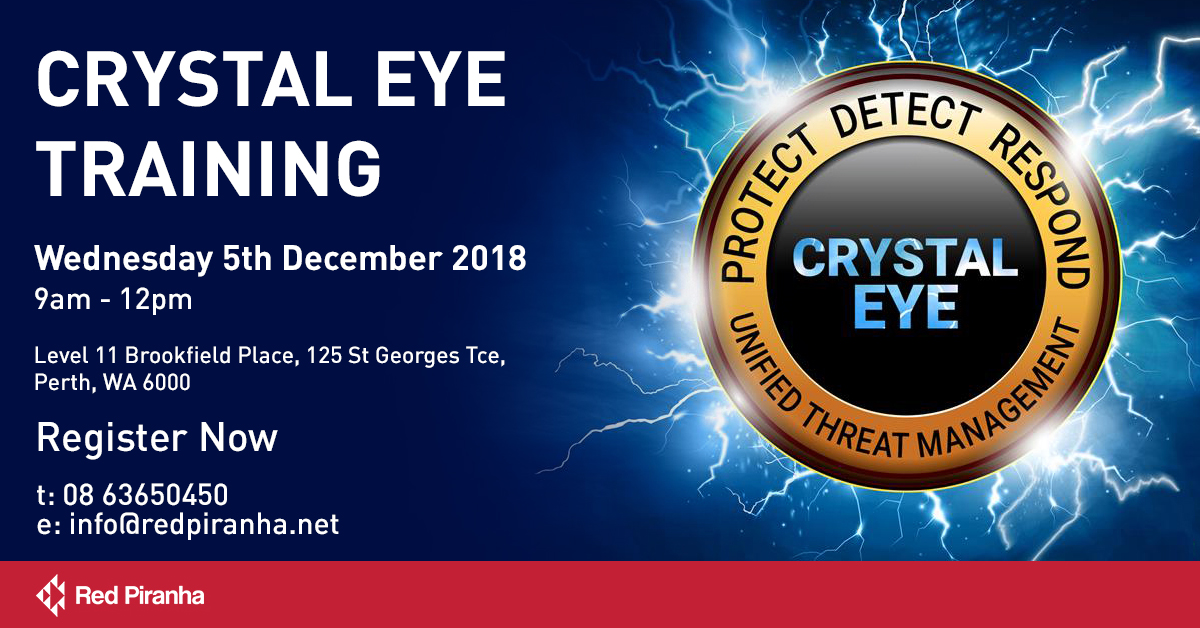 ---
Register Now! Crystal Eye Training - Perth 
---
Join Executives and Senior Technologists for our free Crystal Eye UTM Training session hosted by our team of experts.

This is your chance to get hands-on experience and learn how Australia's first embedded security solution can be deployed to create an affordable, multi-layered defense that will deliver a complete, fully compliant back-end system for your business. 

We will also introduce you to our MSP partner program. Our MSP program presents not only ways for you to tackle and manage the challenges faced by your SMB clients but also an opportunity for you to add additional income stream to your business. 

This is a great opportunity to meet some of our in-house experts and gain a deep understanding of our range of security solutions! 
---
Event Details
---
Where: Level 11 Brookfield Place, 125 St Georges Tce, Perth, WA 6000
When: Wednesday, 5th of December
Time: 8:30 AM (Registration), 9:00 AM - 12:00 PM (Training)
Limited Seats only, hurry and register now
---
FAQ's
---
What is the training program about
The training program is an introduction to Crystal Eye and how it will be useful for your organisation. We will demonstrate how you will be able to utilise the appliance according to your organisational needs
1) Instructions on Crystal Eye installations
2) Getting familiar with security and the system dashboard
3) What applications are available in the Crystal Eye
4) What can Crystal Eye do for your organisation
A 3-Hour Training program
Will a certificate be issued
A certificate will be provided at the end of your training.
What are the levels of training
Level 1 Training - Crystal Eye Essentials
Stay after the training for a light lunch, refreshments and networking!
David Cake - Compliance and Policy Officer at Red Piranha
Jordon Barnett - Business Development Manager at Red Piranha
---
Learn more about Crystal Eye's Functionalities
---