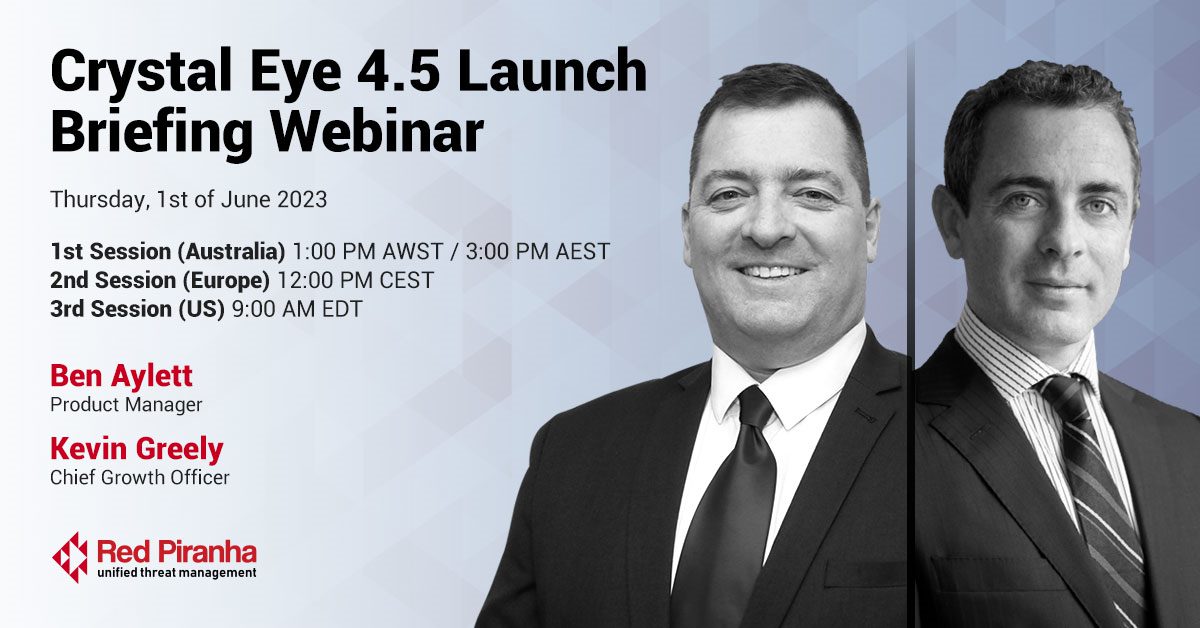 ---
Cyber Security is fast becoming one of the most important parts of a business, and we want to help you be the Cyber Security Expert!

Learn how as a Managed Service Provider you can benefit from joining the Red Piranha partner program and adopting the Crystal Eye XDR 4.5 platform.

Red Piranha's crown jewel Crystal Eye, Consolidated Security Platform has been designed from the ground up for enterprises of all sizes. Crystal Eye is an award-winning technology that is recognised as a significant game-changer in the industry.

With Crystal Eye XDR, your organisation can safeguard against threats across your Network, Endpoints, and Cloud with a single unified platform that provides protection, detection, and response capabilities. This comprehensive solution integrates multiple security controls, ensuring compliance requirements are met and your organisation is secure.
---
Event Details
---
Where: Online
When: Thursday, 1st June 2023
Time: 01:00 PM - 02:00 PM AWST
03:00 PM - 04:00 PM AEST
02:30 PM - 03:30 PM ACST
05:00 AM - 06:00 AM UTC
International Scheduling:
EU Session - Thursday, 1st June 2023
Time: 12:00 PM - 1:00 PM CEST
06:00 PM - 07:00 PM AWST
08:00 PM - 09:00 PM AEST
07:30 PM - 08:30 PM ACST
10:00 AM - 11:00 AM UTC
US Session - Thursday, 1st June 2023
Time: 9:00 AM - 10:00 AM EST
09:00 PM - 10:00 PM AWST
11:00 PM - 12:00 AM AEST
10:30 PM - 11:30 PM ACST
01:00 PM - 02:00 PM UTC
---
Key Presenters
---
Ben Aylett - Product Manager at Red Piranha
Kevin Greely - Chief People Officer at Red Piranha