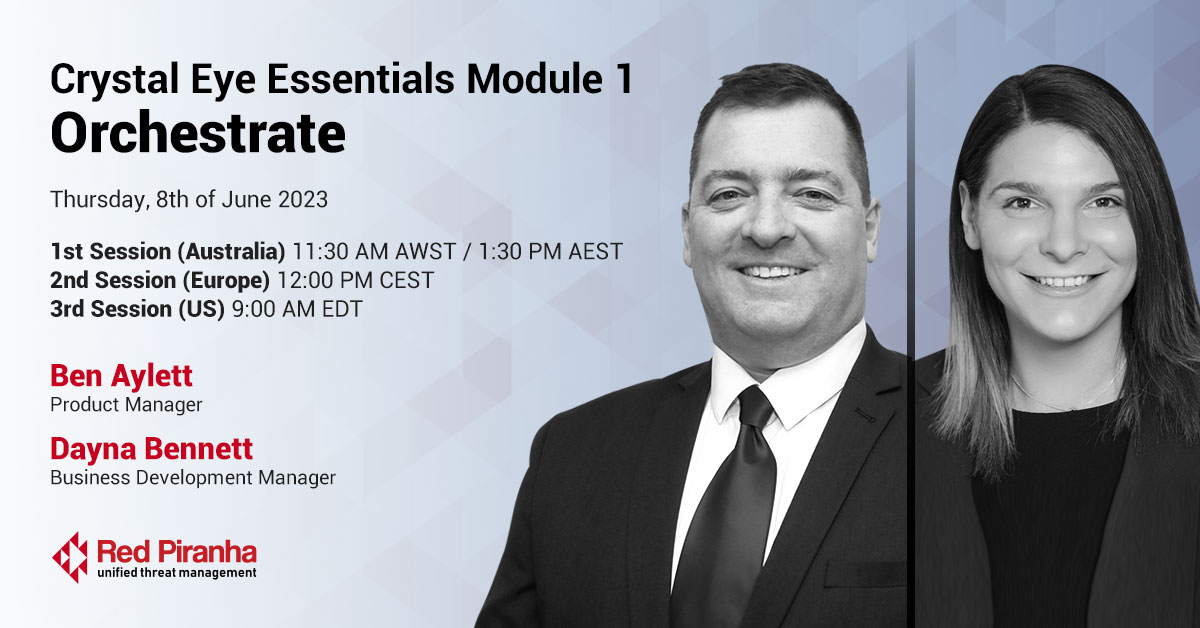 ---
Get your Crystal Eye Essentials Certificate by completing Module 1 and Module 2 training sessions.
The Crystal Eye Essentials Module 1 webinar gives you a chance to get a 'hands-on' introduction to Orchestrate.
Orchestrate has been built around you, with convenience and speed in mind. Grab this chance to learn about the integrated tools and features within Red Piranha's Orchestrate including:
Staff and Client Account Management
Automated Sales Tools
On-demand CSAT and technical Training
Phishing Assessment
Other updates to the Orchestrate User Interface.
Keen to learn more? Make sure to register above for the upcoming Crystal Eye Essentials Module 1 training sessions.
---
Event Details
---
Where: Online
When: Thursday, 8th June 2023
Time: 11:30 AM - 12:30 PM AWST
01:30 PM - 02:30 PM AEST
01:00 PM - 02:00 PM ACST
03:30 AM - 04:30 AM UTC
International Scheduling:
EU Session - Thursday, 8th June 2023
Time: 12:00 PM - 1:00 PM CEST
06:00 PM - 07:00 PM AWST
08:00 PM - 09:00 PM AEST
07:30 PM - 08:30 PM ACST
10:00 AM - 11:00 AM UTC
US Session - Thursday, 8th June 2023
Time: 9:00 AM - 10:00 AM EST
09:00 PM - 10:00 PM AWST
11:00 PM - 12:00 AM AEST
10:30 PM - 11:30 PM ACST
01:00 PM - 02:00 PM UTC
---
Key Presenters
---
Ben Aylett - Product Manager at Red Piranha
Dayna Bennett - Business Development Manager at Red Piranha