The Latest Red Piranha News
November has been another successful month for Red Piranha! With Rosemary Milkins joining our Board as a Non-Executive Director and our Crystal Eye XDR securing businesses both globally and cosmically including new partnerships with Green Circle and SpaceBelt.
We were finally able to meet with our Sydney based partners in person during our first partner briefing since the COVID restrictions were lifted. The opportunity of hosting more events face to face moving forward has us excited for what lies ahead in 2021.
As we head into the holiday season, on behalf of the entire team at Red Piranha, we would like to wish you a safe and cheerful festive period, with the best of everything to come in 2021!
Appointment of Rosemary Milkins as our new
Non-Exec Director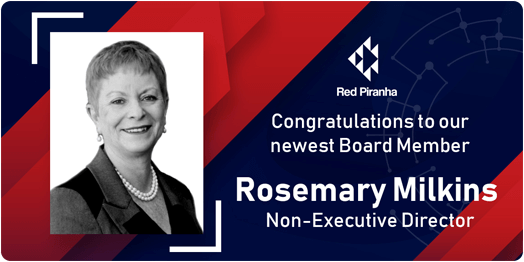 We are delighted to announce the appointment of our newest Director, Ms Rosemary Milkins.
Rosemary brings to Red Piranha over thirty years of public sector experience across New South Wales during which she successfully held roles as the Deputy Commissioner of the NSW Police Force, Deputy Chief Executive of Fire and Rescue (NSW) and Assistant Director-General, Public Sector Workforce within the Department of Premier and Cabinet (NSW).
Rosemary's skillset will further enhance our depth of experience and knowledge on the Board as we begin to execute our 2021 and Beyond Corporate Strategy. Welcome, Rosemary!
Learn more
Space Communications are in Safe Hands with our Crystal Eye XDR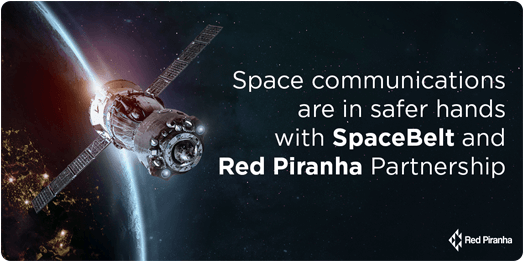 We have joined forces with Cloud Constellation's SpaceBelt, to provide the first line of defence in the protection of highly sensitive information, using the world's first cloud and data service based entirely in outer space.
Space and space technologies are becoming increasingly important in the development of the modern economy. Red Piranha is proud to be working alongside SpaceBelt in providing governments and corporate identities the ability to secure, high-speed global cloud storage networks of space-based data centres, continuously interconnected by an exclusive architecture of low earth orbit satellites.
We are excited to be working in collaboration with SpaceBelt to help prepare their Information Security Strategy to assist in the implementation of SpaceBelt's technology throughout the public and private sectors.
Learn more about our latest MOU
Our Global Expansion Continues with our
Latest Partner, Green Circle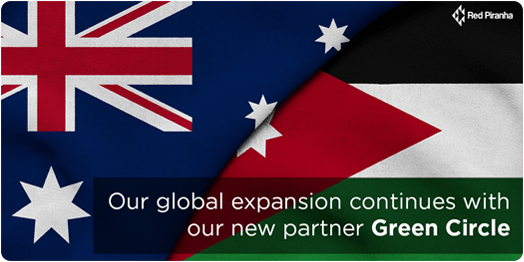 Our latest partnership with Jordan's leading cybersecurity solutions specialist, Green Circle, will see us export Australia's very first XDR platform to the Middle East.
This partnership highlights the strength of our global partnership program and is another positive step for Red Piranha to continue to deliver the most powerful XDR appliance to corporations located around the globe. With further exports planned to the United States, Singapore, and the South Pacific.
Learn more
Crystal Eye Update
November has been a busy month for our Crystal Eye XDR Production and Development team with refinements to various features and components as we work towards releasing Crystal Eye 4.0.
Our Client Dashboard has seen updates to communication between Crystal Eye Appliances and SIEM. Multifactor authentication has progressed to the testing phase and will be released shortly upon completion of our final testing phase.
The Crystal Eye appliance has received updates to the IDPS rule actions, GRC communications, and the protocol database, implementation of LDAP authentication rate limiting, minor fixes to SIEM registration, and the addition of sticky buffer support in IDPS.
Upcoming Events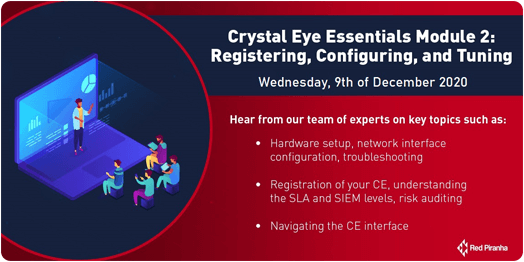 Crystal Eye Essentials Training Module 2: Registering, Configuring and Tuning
Wednesday, December 9th, 2020.
You're invited to join our free Crystal Eye Essentials: Module 2 Training session hosted by our team of experts. This webinar session will build upon the knowledge presented in Module 1, and will include the basic setup and tuning of your Crystal Eye XDR platform. This is an essential step in upskilling your team to deploy the CE devices
Register today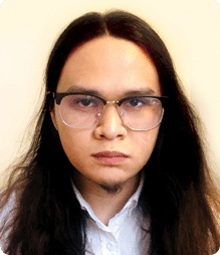 Staff member of the month:
Juan Carlo Aldana
Congratulations to our talented Graphic Designer, Juan Carlo, more affectionately known as 'JC' who was awarded our team member of the month.
JC has played an integral role in the development and creation of nearly every piece of corporate marketing collateral throughout Red Piranha. He has been the creative force behind our flyers, brochures, and service sheets, to updating our website graphics, crafting our social media graphics, and even taken on the world of videography. We all appreciate his ability to go the extra mile to make sure the job is complete and to the required specifications, even under the tightest of deadlines.
In his personal time, JC has shown a passionate interest in developing his casual mobile games, having already released three mobile games in the last four years. He plans to continue this hobby into the future.
Connect with JC
Threat Intelligence Reports
Our weekly Threat Report publishes the latest tracking data from attackers alongside the campaign information used within those attacks, ensuring you are kept up to date.
This month we have noted the following threats placing businesses at risk:
The top attacker country was China with 36459 unique attackers (48.25%).
The top Trojan C&C server detected was RedLine with 25 instances detected.
The top phishing campaign detected was against Amazon accounts with 20 instances detected.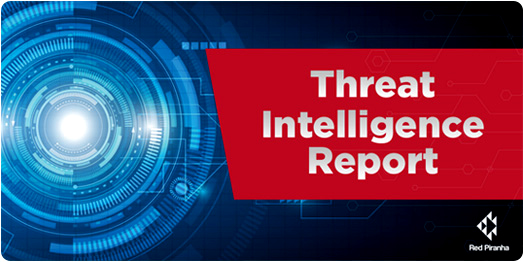 Subscribe today
Join the Red Piranha Team
Do you know any industry leaders who are looking for a new opportunity? Because we are on a mission to hire the best and the brightest to join our rapidly growing team of professionals who are pioneering security solutions to every corner of the globe.
Business Development Manager (Melbourne)
Sales Representatives (Melbourne and Sydney)
Cyber Security Engineer (Perth)
Learn more
Copyright 2020 – Red Piranha - All Rights Reserved