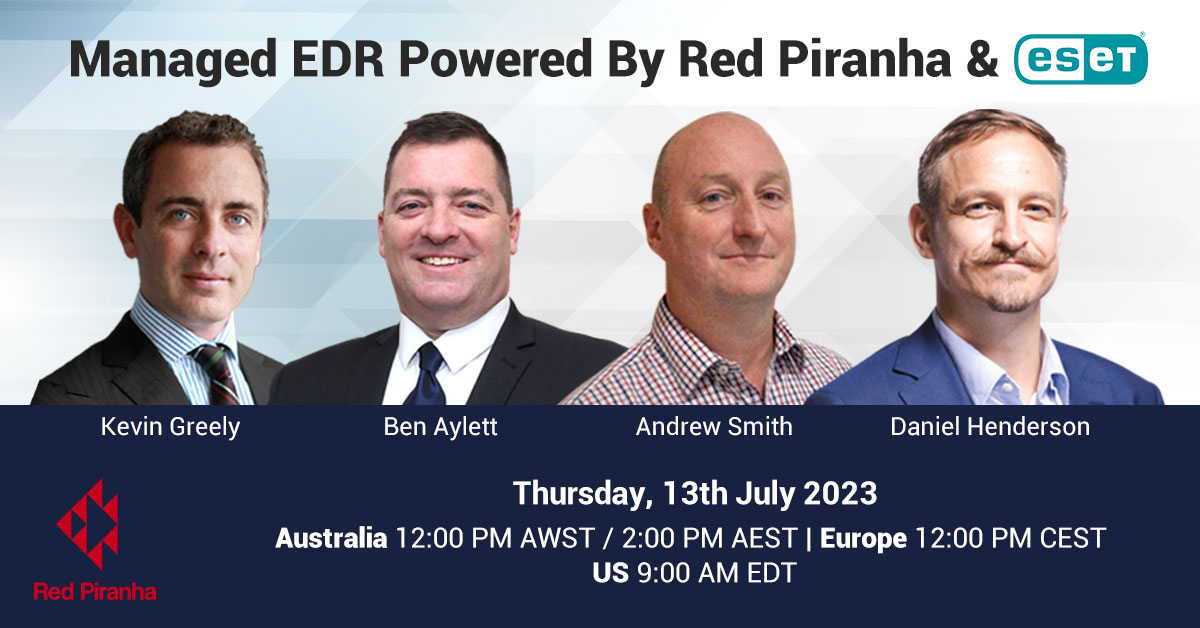 ---
Total Coverage across Network, Endpoints and Cloud designed for businesses of all sizes.

Red Piranha and ESET Australia's strategic partnership combines the expertise of two industry leaders, enabling businesses to access top-quality protection for their networks, endpoints, and cloud services- wherever they are.

With Red Piranha's best-in-breed Network Detection and Response (NDR) with Managed Detection Response (MDR) capability and ESET's proven Endpoint Detection and Response (EDR) solution, trusted by some of the biggest companies in the world, customers can now be confident they have a fully managed end-to-end cybersecurity solution that is being monitored around the clock. This advanced Threat Detection and Incident Response (TDIR) solution gives the most comprehensive capability on the market to protect against the threat of APT's and Ransomware.
What to expect in the webinar?
Capabilities of the two industry leaders determined to enhance Australia's sovereign capabilities.
Get a sneak peek into Crystal Eye XDR 4.5 and its latest features.
A brief on Retainer Free Incident Response from Official Team Defence Australia partner.
Response and remediation steps to ensure business continuity.
Overall detection capabilities of all known malware families and APT's, CnC's with Advanced NDR solution

Managed Threat and Risk updates for Increased visibility.
Integrated World-Class Threat Intelligence for alert confidence. Advanced heuristics and ML anomaly detection and integrated Vulnerability Management.
Integrated Attack Surface Reduction, Secure Web Gateway, Azure AD monitoring.
Integrated Continuous Threat Exposure and Compliance Programs.
With this strategic partnership between Red Piranha and ESET, businesses can leverage cutting-edge technologies with 24x7 SOC support to ensure continuous monitoring and response capability.
So go ahead and book your spot today!
---
Event Details
---
Where: Online
When: Thursday, 13th July 2023
Time: 12:00 PM - 01:00 PM AWST
02:00 PM - 03:00 PM AEST
01:30 PM - 02:30 PM ACST
04:00 AM - 05:00 AM UTC
International Scheduling:
EU Session - Thursday, 13th July 2023
Time: 12:00 PM - 1:00 PM CEST
06:00 PM - 07:00 PM AWST
08:00 PM - 09:00 PM AEST
07:30 PM - 08:30 PM ACST
10:00 AM - 11:00 AM UTC
US Session - Thursday, 13th July 2023
Time: 09:00 AM - 10:00 AM EST
09:00 PM - 10:00 PM AWST
11:00 PM - 12:00 AM AEST
10:30 PM - 11:30 PM ACST
01:00 PM - 02:00 PM UTC
---
Key Presenters
---
Ben Aylett - Product Manager at Red Piranha
Kevin Greely - Chief Growth Officer at Red Piranha
Daniel Henderson - Business Development Manager at Red Piranha
Andrew Smith - Channel Account Manager at ESET