The Latest Red Piranha News
February was an incredible month for Red Piranha.

We launched the ninth release of Crystal Eye XDR 4.5 (Whoa!)
Held our 2023 Red Piranha Conference. This was an opportunity for our team to reconnect and review our procedures, policies and systems as well as introduce new products and services. This in-person and virtual event saw a huge turnout, and we would like to thank our team for making it a success.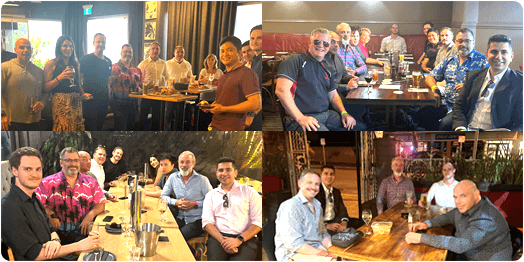 Red Piranha Shipping Crystal Eye XDR 4.5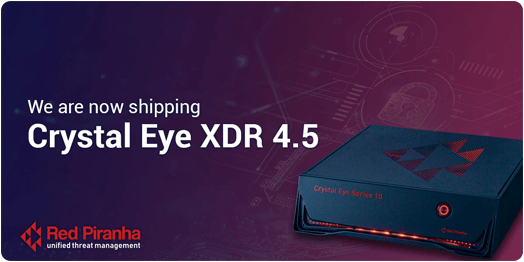 With the launch of Crystal Eye XDR 4.5, we bring you a host of new features and improvements for enhanced security outcomes. To help you strengthen your organisation's security posture and stay ahead of threats. Some of the enhancements are:
Secured IoT environment with Passive Encryption Control
Improved network layer protection and enhanced monitoring of your Azure environment with Azure Cloud Monitoring
Visibility of your entire network traffic down to granular hosts and applications to assist with investigations in the updated Threat Hunting Dashboard
Complete visibility and in-depth analysis of IT assets in your network architecture with the improved Network Asset Discovery app
Updated Vulnerability Scanning app
Improved communications to the Red Piranha Security Operations Centre
Revised database engine for faster UI and overall system response
Talk to our Experts
Crystal Eye XDR Update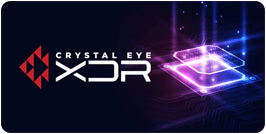 March is the 'update' month with version 4.5 field upgrades becoming available.
About our different updates:
Red Piranha maintains all systems that make up the Crystal Eye XDR platform through our own software delivery network and can be defined as:
Major Field Upgrades
Monthly Application Updates
Daily Security Updates
Emergency Updates
This article explains the differences in the types of upgrades which are also detailed in this forum post (https://forum.redpiranha.net/t/crystal-eye-xdr-updates-explained/360)
Major Field Upgrades are designed to implement significant changes to the Crystal Eye XDR operating system that can include but are not limited to the kernel, architecture, application changes and UI layout.
These upgrades are designed to be straightforward with as little as possible interaction required from the network administrator to minimise downtime. These will be scheduled 3 times in 2023 and twice a year from 2024 onwards. Due to the nature of field upgrades requiring a short outage during reboot, these upgrades are automatically downloaded but require an administrator to trigger the upgrade process.
Monthly Application Updates are typically feature updates automatically applied as long as the Crystal Eye XDR appliance is configured to apply automatic updates (enabled by default).
Daily Security Updates are pushed to all Crystal Eye XDR appliances by our SecOps team. These updates are applied to the threat detection rules which effectively give fully automated, real-time protection based on threat intelligence gathered from our collaboration with the OISF (Open Information Security Foundation) and our own threat signals gathered from our own platforms deployed in the field. This removes the effort required by a CISO or MSP to collate, score, translate and manage up-to-date detection rules and rely on Red Piranha's own Threat Intelligence Platform and the Crystal Eye XDR Automated Actionable Intelligence that applies for this protection automatically.
Emergency Updates are applied out of the monthly update cycle automatically (while automatic updates are enabled) as needed to Crystal Eye XDR appliances ensuring that all appliances are providing Confidentiality, Integrity and Availability 24/7.
Service Spotlight: Digital Forensics and Incident Response (DFIR)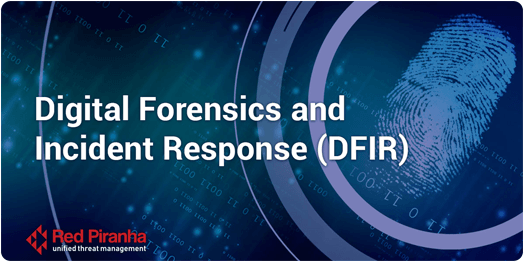 During a security incident, while our main priority is to recover from the incident and eradicate the threat, we also need to understand the 'what, when, who and how' of the attack to prevent such incidents from recurring.
Digital Forensics and Incident Response (DFIR) services help incident responders identify, contain, eradicate and respond to threats. It offers an in-depth understanding of the incident and answers basic questions like:
What happened? (Understand the attack vector)
Who was it? (Attribute the attack)
How they broke in? (Steps they took)
Where is my data? (Did data exfiltration occur?)
Can I recover my data? (What to do about the ransom demands)
Red Piranha delivers comprehensive Digital Forensics and Incident Response (DFIR) services to help you plan for and manage a security breach. Our village of experts works with your IT team to mitigate risk, allowing proper containment of incidents. We study the information and work with your team to understand where the security system failed and to improve the handling of the event. We look at the existing security handling plans and provide recommendations for improvement.
Learn more
A look at LockBit 3.0 Ransomware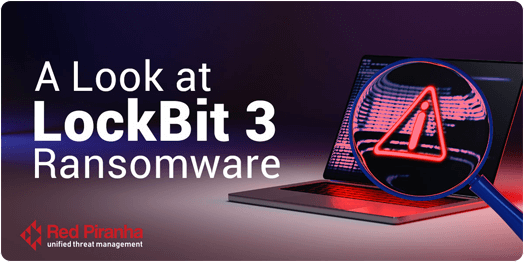 First detected in September 2021, LockBit 3.0 is a highly sophisticated ransomware. Being the third iteration of the LockBit malware family, it has been active since 2019. Like other ransomware, LockBit 3.0 is designed to encrypt victims' files and demand a ransom in exchange for the decryption key. However, what sets LockBit 3.0 apart is its complex encryption mechanisms and use by highly skilled threat actors, as well as its rise to be the number one choice from threat actors, as seen in our recent Threat Intelligence Reports.
Learn more
Red Piranha Events
Our 2023 events calendar is filling up fast!
Here are the events we have planned for you in March. We look forward to you joining us.
With the Crystal Eye XDR 4.5 successful release, we invite you to join us for our Crystal Eye Essentials Module 1 and Module 2 webinars. This is your chance to get a 'hands-on' introduction to our Orchestrate Dashboard, experience our latest operating system, the Crystal Eye XDR 4.5 and explore the new features and improvements.
Crystal Eye Essentials Module 1: Orchestrate Dashboard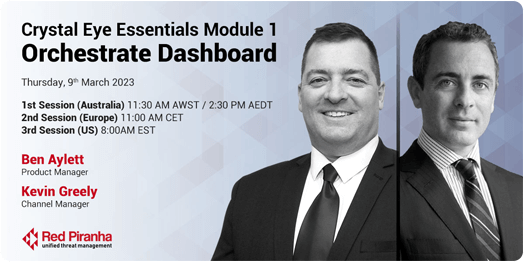 Crystal Eye Essentials Module 2: Crystal Eye XDR Demo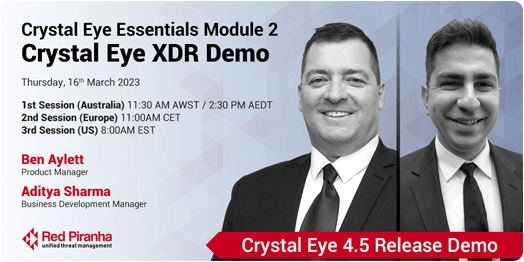 Read More
Subscribe
Now

Request a
Demo

Leave a
Review









Questions?
Get in touch. If you have any questions, comments or feedback regarding our ongoing programs, products or services, please submit them to [email protected] or head to our forum at https://forum.redpiranha.net/.
**Terms and conditions apply!
Contact your business development manager to receive a copy of the terms and conditions. Prices are correct as of 13/01/2021, subject to change.