The Latest Red Piranha News
We hope everyone is doing good, staying safe.
In the blink of an eye, another month comes to an end. And like always, it had us on our toes. In August, we received the Black Unicorn Awards 2021 and welcomed our Security and Compliance Manager, Colin Twist. We also signed an MOU with Operation Unify Us to bridge the Australian cybersecurity skill gap for our First Nation and Defence Veterans.
Let's see what new challenges this new month has in store for us, and don't forget, our team is always here to assist you in your cybersecurity journey.
Red Piranha is one of the Australian Defence Industry Awards 2021 Finalists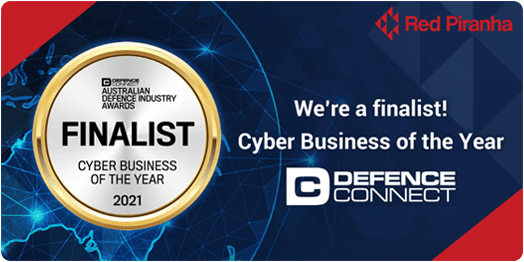 We are proud to announce that for the 2nd year in a row, we have been selected as one of the finalists for the Australian Defence Industry Awards 2021 in the 'Cyber Business of the Year' category.
The Australian Defence Industry Awards sets the new benchmark for excellence within the defence, recognising the outstanding achievements of individuals and firms working in the Australian defence industry.
Congratulations to all the finalists!
Learn more
Red Piranha Named Winner in
Black Unicorn Awards 2021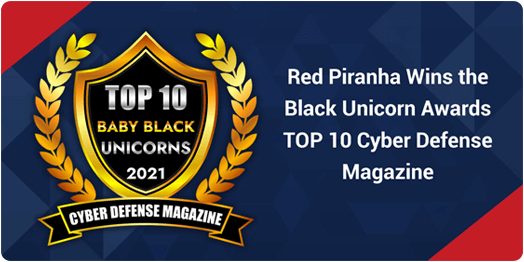 We are the proud recipient of the 'Black Unicorn Awards' in the Top 10 Baby Black Unicorn sub-category for 2021.
We competed against some of the leading cybersecurity providers within the industry and came out on top!
This award celebrates our impressive track record, in addition to our innovative cybersecurity product and services offering, market adoption, and the vast 'green field' opportunity in front of us in a multi-billion-dollar addressable marketplace.
Learn more
Crystal Eye XDR Update
September is shaping up to be a big month, with the first update cycle getting underway on 7th September with updates going to SSPVPN, ForceField, IDPs and Security Dashboard all getting updates.
There is also a significant upgrade coming for all Crystal Eye Appliances in the field, with the remote software update from 3.5 to 4.0 becoming available first for NFR and Crystal Eye Series 10 appliances starting 8th September, with the rest, followed up on 15th September. Keep an eye out for future communication, along with a step-by-step guide to hand to assist engineers with field upgrades.
We are also about to hold our next Crystal Eye Certified Engineer 4.0 training and certification day on 22nd September that will be held in our Perth offices and online. Get in touch with your Business Manager or visit the website for more information or register your interest.
Welcome to Red Piranha, Colin!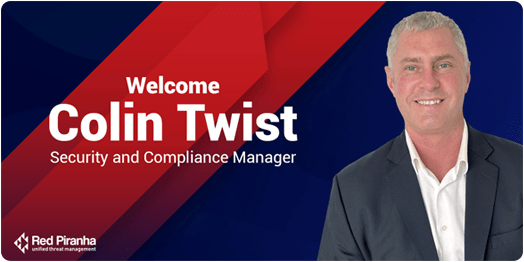 We are delighted to welcome Colin Twist as our Security and Compliance Manager at Red Piranha.
Colin Twist is a recognised industry authority within the Australian Government Information Security Manual (ISM), Protective Security Policy Framework (PSPF) and ISO space. With a comprehensive thirty-year track record of experience across government, defence, aviation, and logistics, Colin invokes a passion for securely optimising all aspects of organisational production and security whilst maintaining a keen focus on client engagement and customer service.
Colin joined Red Piranha after a successful fifteen-year career with the Australian Federal Police force as their leading Cybersecurity Analyst. He was responsible for researching global security vulnerabilities, attack vectors, and threat actors and implementing incident response investigations worldwide.
Learn more
Red Piranha Unites with OUU to Close the Australian Cybersecurity Skill Gap for our First Nation and Defence Veterans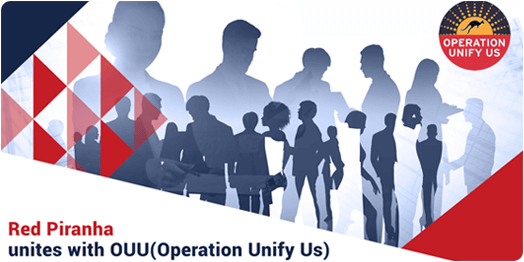 Red Piranha has partnered with Operation Unify Us (OUU) to develop the "Small Business Sales Pathway & Cybersecurity Internship Program". A career development program designed to bridge the cybersecurity skill gap for the First Nation people and Defence Veterans.
Together, Red Piranha and OUU will create a direct route for Australian candidates to enter the cybersecurity industry via - in part our holistic educational program. Red Piranha will provide candidates with access to our onsite internship with our Security Operations Centre in addition to access to our suite of online cybersecurity online courses.
Learn more
Service Spotlight: CEASR Application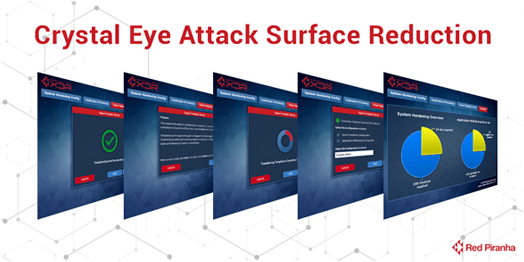 As the threat landscape is evolving so rapidly, antivirus software is becoming less effective, and it's critically important to be analysing malicious behaviours on the endpoints – not just looking at signatures.
CEASR reduces your attack surface with comprehensive endpoint protection, all integrated into our XDR platform. It achieves this by locking down known weaknesses in your Windows working environment often exploited by malware, applying policies based on the Australian Government's ASD Windows ISM Controls and allows organisations to meet Essential Eight guidelines.
CEASR monitors and blocks suspicious software behaviours on endpoints via a range of methods.
Learn how CEASR can secure your organisation from cloud to endpoint by speaking to a member of our qualified team today.
Learn more
Red Piranha Events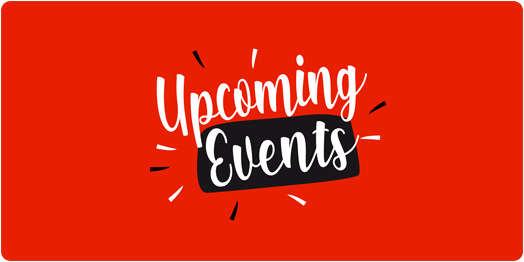 It's never a dull moment for the Red Piranha team, and August was another busy month for events! With our Melbourne and Perth Partner events in full swing, to a great turnout. Thank you to all our partners who came along, but fear not, if you couldn't make it, we have another round of Partner Briefings in November, so keep your eyes peeled.
WA IT Leadership Summit
We had a great time participating in the 2021 WA IT Leadership Summit. Our team of specialists interacted with industry leaders on everything related to cybersecurity and Crystal Eye XDR. Congratulations to Hani from Nicheliving for winning our Cybersecurity Awareness competition.
Partner Briefing and Networking Sessions – Perth and Melbourne
September's Partner Briefings in Perth and Melbourne were a great success! Thank you to all our partners who logged in or joined us down at the George for our latest partner session.
Upcoming Events
Crystal Eye XDR Online Partner Briefing and Networking – Brisbane & Sydney
Here's your opportunity to learn everything about the industry-leading Crystal Eye XDR platform and interact with our in-house experts and gain a deep understanding of our range of security solutions!
Event Details
Where: Online via Teams
When: Thursday, 16th September 2021
Time: 03:00 PM - 04:30 PM AEST
Event Details
Where: Webinar
When: Thursday, 30th September 2021
Time: 03:00 PM - 04:30 PM AEST
Red Piranha Partner Sales Enablement Webinar
Get ready for our Sales Enablement Webinar! We are excited to finally present to you our sales enablement program to drive more revenue and success. During this session, we'll showcase our new and improved client dashboard and give you a chance to get a 'hands-on' introduction to our Crystal Eye XDR and the opportunity to interact with our team.
Details
Where: Online
When: Friday, 24th September 2021
Time:
11:30 AM - 12:30 PM AWST
1:30 PM - 2:30 PM AEST
1:00 PM - 2:00 PM ACST
3:30 AM - 4:30 AM UTC
Learn more about our upcoming events
Threat Report is getting Revamped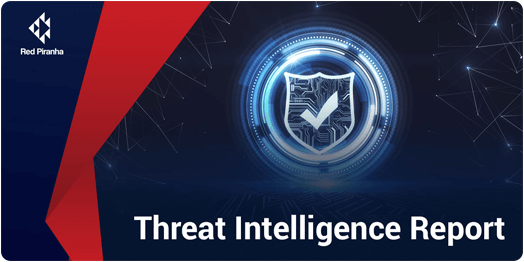 Missing our weekly threat report?
We're relaunching our weekly threat report.
Subscribe now
Please leave a review for us by visiting
Gartner Peer Insights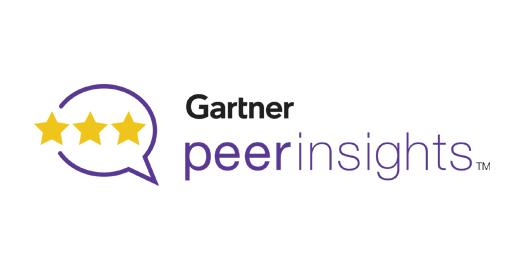 Let us know what you love about Red Piranha and what you think we should work on next!
We want our suite of cybersecurity products and services to be the best they can be for you and your clients. Please leave us your review on our security solutions and pioneering Crystal Eye XDR and help us continue to improve.
Share your thoughts today!
Join the Red Piranha Team
Do you know any industry leaders who are looking for a new opportunity? Because we are on a mission to hire the best and the brightest to join our rapidly growing team of professionals who are pioneering security solutions to every corner of the globe.
Learn more
Questions?
Get in touch. If you have any questions, comments or feedback regarding our ongoing programs, products or services, please submit them to [email protected] or head to our forum at https://forum.redpiranha.net/.
**Terms and conditions apply, contact your business development manager to receive a copy of terms and conditions. Prices correct as at 13/01/2021, subject to change.