CRYSTAL EYE XDR ENDPOINTS
Endpoint Protection
THE REMOTE WORKFORCE POSES A MAJOR CYBER RISK
Endpoints need to be locked down to avoid an incident
Antivirus software isn't good enough to protect endpoints from today's sophisticated threats. Organisations need a more progressive approach to protecting laptops and mobile devices that considers an overall security program to protecting company assets.
Crystal Eye XDR Endpoint is an integrated endpoint solution that works with our overall XDR platform to deliver security protection, threat detection and incident response capabilities. The XDR Endpoint components include:
1. MDR App
2. SD-WAN App
3. CEASR App
4. DFIR App
Crystal Eye XDR Endpoint integrates with our unified platform to extend traditional Endpoint Detection & Response (EDR) to deliver the full features of our XDR capabilities.
Crystal Eye Endpoint secures your endpoints across your corporate networks and your remote workforce.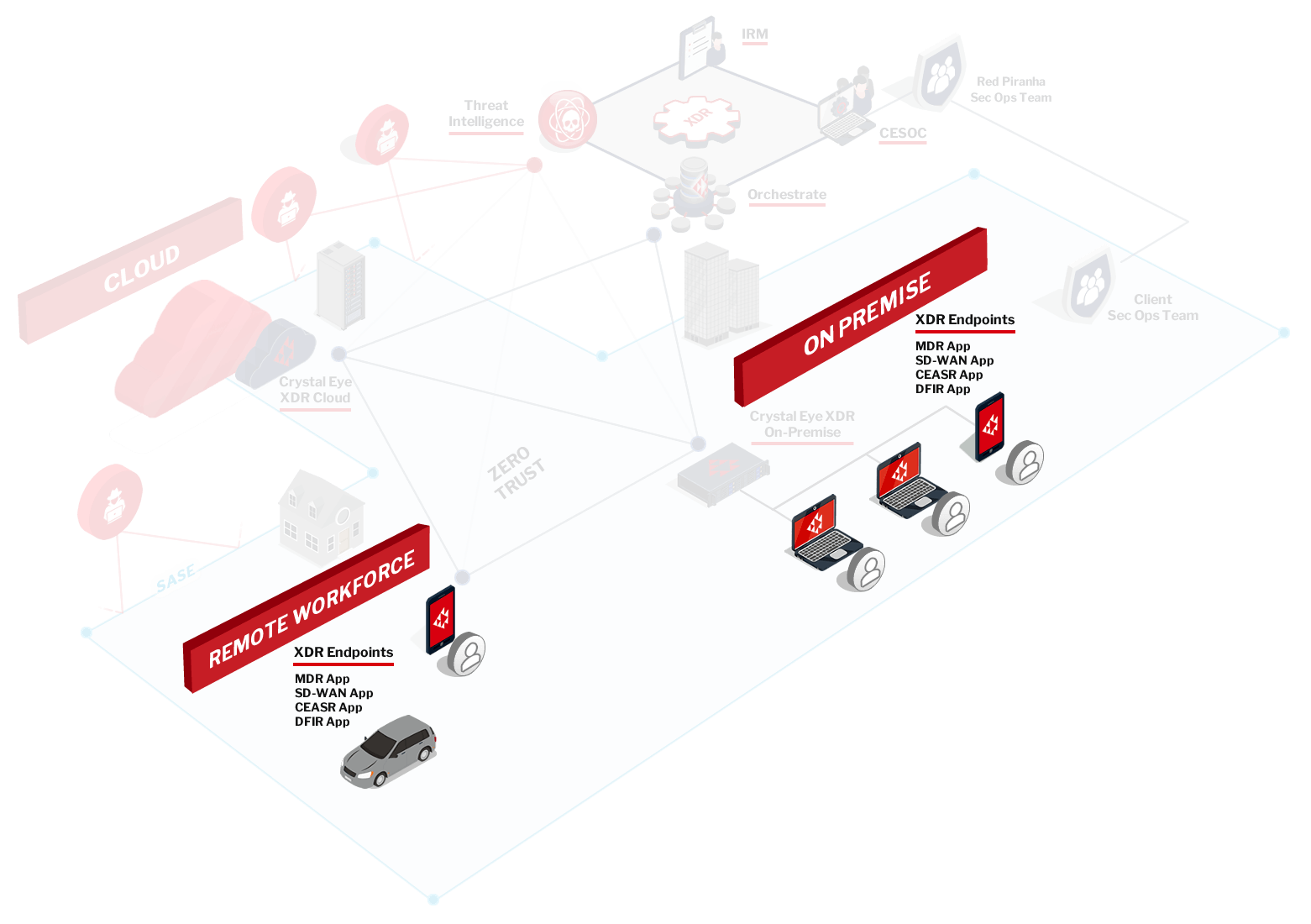 Crystal Eye XDR Endpoints
MDR App
Captures events at the endpoints and sends the relevant data back to the centralised XDR data lake to correlate and report on relevant security activity and incidents.

Forms the Endpoint Detection & Response (EDR) component of overall XDR platform.


SD-WAN App
Provides remote users with a secure connection back to the corporate network to access cloud-based apps, corporate data and internet access.

A key foundation of the Zero Trust Network Access (ZTNA) and Secure Access Service Edge (SASE) models to allow you to securely extend your private networks for client-to-site and site-to-site communication over the public internet and to protect your cloud environments.


Ensures devices on your network conform to security policies based on standard security frameworks such as the Australian Signals Directorate's Information Security Manual (ISM) and the Essential Eight guidelines.

Apply operating system policies across a range of devices and provide ongoing device monitoring to keep track of your compliance baseline in real-time.


DFIR App
Offers host-based forensics by collecting and reporting on malicious activity across your devices and is complemented by our post-breach consulting to support rapid response during an outbreak.

Assists in the efforts of understanding what has occurred during a breach, such as identifying the source and perpetrator of the attack.

Delivers a very cost-effective solution for responding to an outbreak, at a fraction of the typical cost.


Pricing
Crystal Eye Endpoints are available in a range of options to suit every budget.