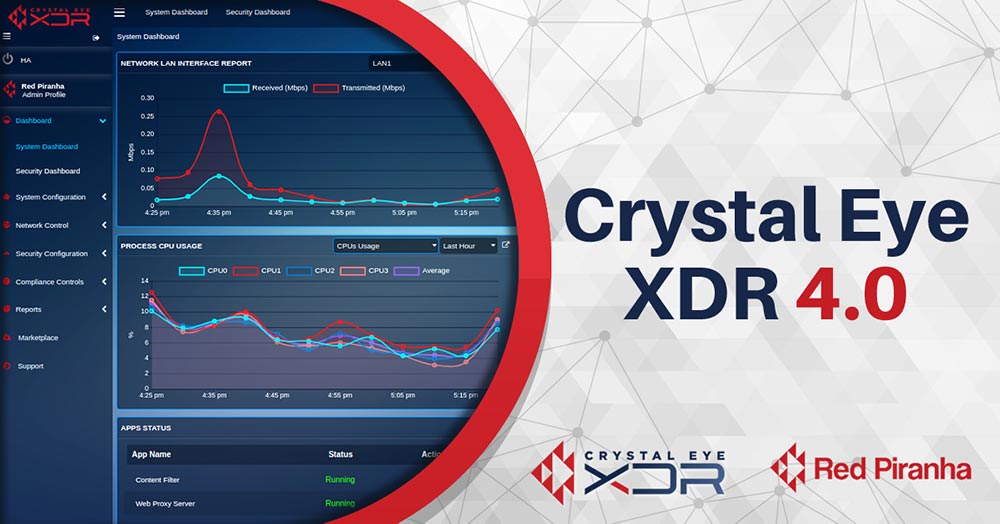 Featuring automated predictive protection, industry-leading detection, and integrated response services
Red Piranha, Australia's leading developer and manufacturer of advanced cybersecurity technology, has launched the eighth release of their revolutionary Crystal Eye Extended Detection and Response (XDR) version 4.0.
We have taken the original and industry-leading XDR platform and enhanced it with the inclusion of SASE Cloud, streamlined Object Policy Control, integrated incident response and digital forensic services, and have boosted our Automated Actionable Intelligence capabilities.
This provides businesses around the world with a comprehensive cybersecurity platform that delivers advanced protection and threat detection for businesses of all sizes against the ever-evolving threat landscape.
Red Piranha first developed the concept of integrated security services in 2015 with the first reiteration of Crystal Eye that was engineered from the ground up as a cohesive security solution suite which Gartner, a leading research and advisory firm, and now the broader market define as XDR.
​
"The primary value propositions of an XDR are to improve security operations productivity and enhance detection and response capabilities by including more security components into a unified whole" - Gartner

The threat landscape is continually evolving and becoming increasingly complex. Cybersecurity defences must continually meet this challenge to address the potential for attacks. Crystal Eye XDR is leading the industry with a fully integrated detection and response platform that is ready to go straight out of the box, delivering a high standard of security without the complexity and cost of integrating products from multiple vendors.
Crystal Eye XDR 4.0 sets the standard for other comparable solutions within the cybersecurity space by expanding upon the original feature set by:
Complementing the Crystal Eye XDR 4.0 launch, we are announcing two additional services to expand our stable of service offerings:
"I'm so proud of our team and the immense effort that has gone into our eighth Crystal Eye release. It is an amazing leap forward in how we can deal with the growing threat landscape that continually places our partners and clients at risk. Our latest release greatly removes the burden placed upon management by deploying predictive protection with automated actionable intelligence through the inbuilt CTI systems," 
Adam Bennett, Red Piranha CEO
At Red Piranha, we believe that overcoming cybersecurity challenges isn't about deploying technology just for the sake of it. It's about solving real business issues based on their required level of assurance. Securing an organisation is an ongoing journey that involves consideration across various departments, including policy, compliance, training, and technology. 
Date Published
March 03, 2021