---
The Red Piranha Team
---
Red Piranha is a diversified group of IT professionals dedicated to providing our clients with leading security solutions. We are the developers of Australia's first Unified Threat Management, Crystal Eye, and of Australia's first next-generation firewall.
---
Latest Threats, News and Developments
---
VISIT OUR BLOGS AND NEWS PAGE FOR MORE ARTICLES
---
Trends
---
China is on top of the list with 1127 unique attackers (29.9%)
Database Attack - Store Procedure Access - Attack with 172 occurrences (30.4%)
SQL Injection was the top exploit event of the week with 52% of occurrences.
---
Top Attacker by Country
---
| | | |
| --- | --- | --- |
| Country | No. of Attackers | Percentage |
| China | 1127 | 29.9% |
| United States | 693 | 18.4% |
| Brazil | 285 | 7.6% |
| France | 190 | 5.1% |
| Russian Federation | 180 | 4.8% |
| Republic of Korea | 158 | 4.2% |
| India | 129 | 3.4% |
| Vietnam | 109 | 2.9% |
| United Kingdom | 108 | 2.9% |
| Netherlands | 89 | 2.4% |
| Germany | 86 | 2.3% |
| Italy | 84 | 2.2% |
| Taiwan | 71 | 1.9% |
| Australia | 71 | 1.9% |
| Canada | 71 | 1.9% |
| Thailand | 70 | 1.9% |
| Colombia | 67 | 1.8% |
| Indonesia | 67 | 1.8% |
| Ukraine | 60 | 1.6% |
| Greece | 48 | 1.3% |
---
Threat Geolocation
---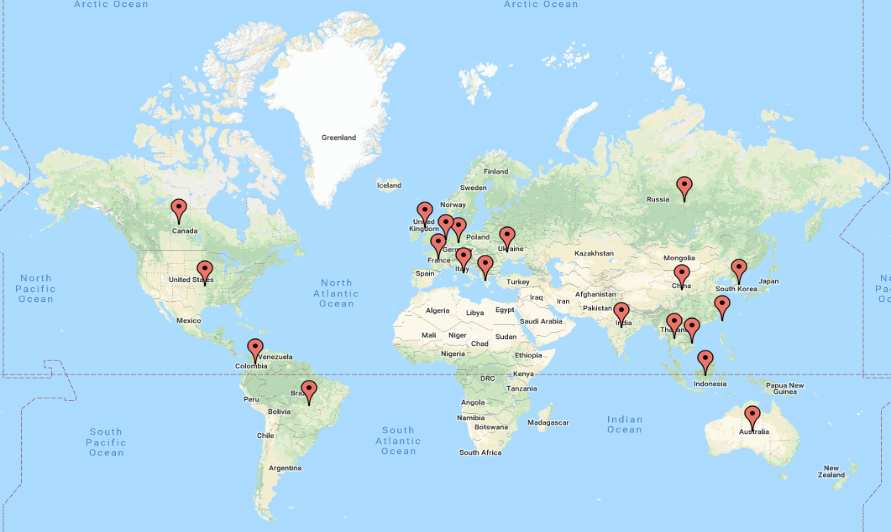 ---
Top Attacking Hosts
---
| | |
| --- | --- |
| Host | Occurrences |
| 159.213.47.13 | 107 |
| 37.49.231.145 | 55 |
| 66.240.219.146 | 19 |
| 94.102.49.122 | 17 |
| 134.119.205.46 | 16 |
| 89.248.167.131 | 11 |
| 191.252.119.9 | 9 |
---
Top Alarms
---
| | |
| --- | --- |
| Alarm | No. of Occurrences |
| Database Attack - Stored Process Access - Attack | 172 |
| Network Discovery - SCAN | 148 |
| OTX Indicators of Compromise - PULSE | 146 |
| Attack Tool Detected - Attack | 40 |
| Bruteforce Authentication - SSH | 39 |
| WebServer Attack - Attack | 20 |
Comparison from Previous Report
| | |
| --- | --- |
| Alarm | No. of Occurrences |
| OTX Indicators of Compromise - PULSE | 105 |
| Bruteforce Authentication - SSH | 90 |
| Database Attack - Stored Process Access - Attack | 46 |
| Attack Tool Detected - Attack | 28 |
| WebServer Attack - Attack | 22 |
---
Exploit Event Types and Top Event NIDS
---
---
Red Piranha - Open Threat Exchange
---
| | | | | |
| --- | --- | --- | --- | --- |
| Pulses Subscribed | Indicators | Last Updated | Number of Alarms | Number of Events |
| 5,836 | 876,604 | 2018-10-22 00:28:06 | 5,912 | 13,510 |