---
THE RED PIRANHA TEAM
---
Red Piranha is a diversified group of IT professionals dedicated to providing our clients with leading security solutions. We are the developers of Australia's first Unified Threat Management, Crystal Eye, and of Australia's first next-generation firewall.
---
LATEST THREATS, NEWS, and DEVELOPMENTS
---
                            VISIT OUR BLOGS AND NEWS PAGE FOR MORE ARTICLES
---
TRENDS
---
China is on top of the list with 1077 unique attackers (26.5%)
The Top Alarm was Reconnaissance & Probing - Database Attack - Stored Procedure Access - Attack with 2705 occurences (39.9%).
---
TOP ATTACKER COUNTRIES
---
| | | |
| --- | --- | --- |
| Country | No. of Attackers | Percentage |
| China | 1077 | 26.50% |
| United States | 975 | 19.30% |
| Brazil | 273 | 6.40% |
| Russian Federation | 269 | 6.20% |
| France | 209 | 4.90% |
| India | 184 | 4.70% |
| Republic of Korea | 159 | 4.00% |
| Vietnam | 153 | 4.00% |
| Netherlands | 120 | 3.10% |
| United Kingdom | 107 | 2.70% |
| Australia | 106 | 2.60% |
| Netherlands | 154 | 2.10% |
| Canada | 89 | 2.10% |
| Italy | 88 | 2.00% |
| Ukraine | 87 | 1.90% |
| Taiwan | 83 | 1.70% |
| Thailand | 76 | 1.50% |
| Indonesia | 75 | 1.50% |
| Unknown | 72 | 1.40% |
| Singapore | 63 | 1.30% |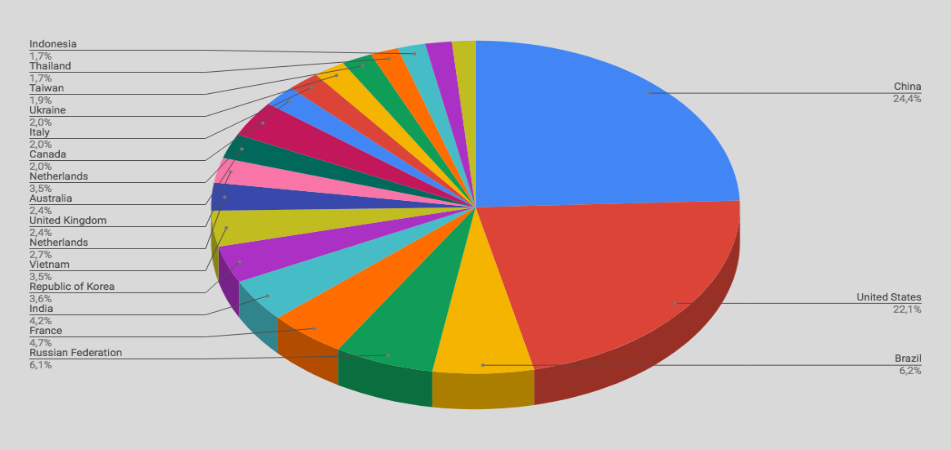 ---
THREAT GEOLOCATION
---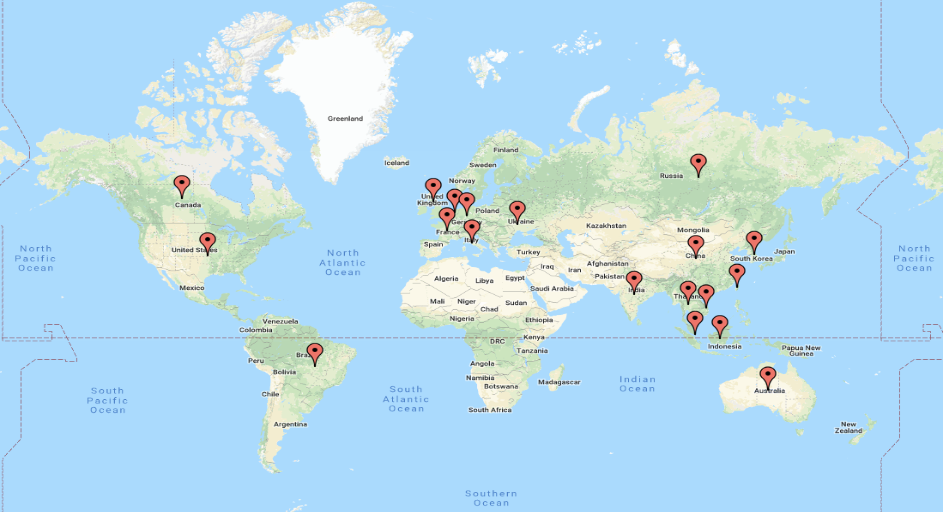 ---
TOP ATTACKING HOSTS
---
| | |
| --- | --- |
| Host | Occurrences |
| 61.175.101.164 | 32 |
| 93.174.93.67 | 16 |
| 61.177.172.57 | 13 |
| 159.100.182.207 | 9 |
| 198.57.247.217 | 9 |
| 62.210.185.4 | 9 |
| 58.218.92.33 | 9 |
---
TOP ALARMS
---
| | |
| --- | --- |
| Alarm | No. of Occurrences |
| OTX Indicators of Compromise - PULSE | 105 |
| Bruteforce Authentication - SSH | 90 |
| Database Attack - Stored Process Access - Attack | 46 |
| Attack Tool Detected - Attack | 28 |
| WebServer Attack - Attack | 22 |
Comparison to Previous Week
| | |
| --- | --- |
| Alarm | No. of Occurrences |
| Reconnaissance & Probing — Database Attack - Stored Procedure Access | 2705 |
| Reconnaissance & Probing — Attack Tool detected | 1524 |
| Delivery & Attack — WebServer Attack — Attack     | 1355 |
| AlienVault HIDS: Multiple XSS (Cross Site Scripting) attempts from same source IP | 894 |
---
EXPLOIT EVENT TYPES AND TOP EVENTS NIDS
---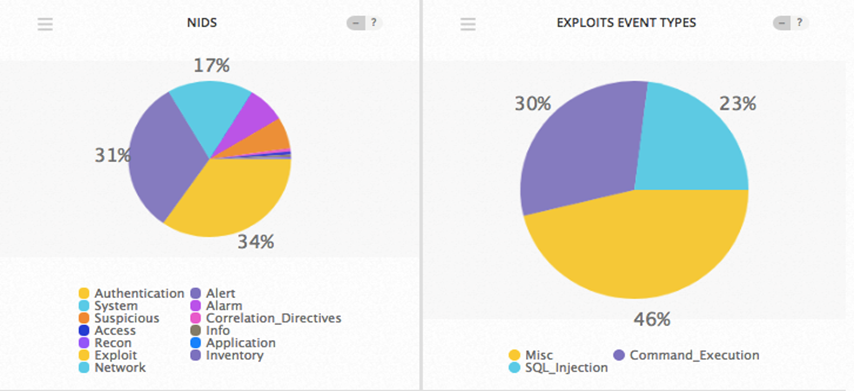 ---
OPEN THREAT EXCHANGE
---
| | | | | |
| --- | --- | --- | --- | --- |
| Pulses Subscribed | Indicators | Last Updated | Number of Alarms | Number of Events |
| 5,804 | 875,131 | 2018-10-15 00:10:47 | 5,762 | 13,711 |
---
VULNERABILITIES
---
Multiple Siemens Products CVE-2017-12069 XML External Entity Injection Vulnerability
2018-10-12
http://www.securityfocus.com/bid/100559
SAP HANA CVE-2018-2465 Denial of Service Vulnerability
2018-10-12
http://www.securityfocus.com/bid/105324
Oracle October 2018 Critical Patch Update Multiple Vulnerabilities
2018-10-12
http://www.securityfocus.com/bid/105555
OpenSSL CVE-2014-3470 Denial of Service Vulnerability
2018-10-11
http://www.securityfocus.com/bid/67898
IBM Global Security Toolkit CVE-2018-1431 Local Privilege Escalation Vulnerability
2018-10-11
http://www.securityfocus.com/bid/105546
OpenSSL CVE-2016-0705 Denial of Service Vulnerability
2018-10-11
http://www.securityfocus.com/bid/83754
OpenSSL CVE-2017-3732 Information Disclosure Vulnerability
2018-10-11
http://www.securityfocus.com/bid/95814
wolfSSL CVE-2017-13099 Information Disclosure Vulnerability
2018-10-10
http://www.securityfocus.com/bid/102174
IBM General Parallel File System CVE-2016-0263 Unspecified Local Privilege Escalation Vulnerability
2018-10-10
http://www.securityfocus.com/bid/90525
Samba CVE-2016-2114 Remote Security Bypass Vulnerability
2018-10-10
http://www.securityfocus.com/bid/86011
Microsoft ATL/MFC Trace Tool 'dwmapi.dll' DLL Loading Arbitrary Code Execution Vulnerability
2018-10-09
http://www.securityfocus.com/bid/42811
Microsoft Windows JET Database Engine Remote Code Execution Vulnerability
2018-10-09
http://www.securityfocus.com/bid/105376
DB2 Universal Database CVE-2012-0710 Denial-Of-Service Vulnerability
2018-10-09
http://www.securityfocus.com/bid/78282
DB2 Universal Database CVE-2012-0711 Remote Security Vulnerability
2018-10-09
http://www.securityfocus.com/bid/77826
IBM Spectrum Scale and IBM GPFS CVE-2016-2984 Local Command Execution Vulnerability
2018-10-08
http://www.securityfocus.com/bid/92410
SSL/TLS LogJam Man in the Middle Security Bypass Vulnerability
2018-10-08
http://www.securityfocus.com/bid/74733
OpenSSL CVE-2015-1788 Denial of Service Vulnerability
2018-10-08
http://www.securityfocus.com/bid/75158