---
THE RED PIRANHA TEAM
---
Red Piranha is a diversified group of IT professionals dedicated to providing our clients with leading security solutions. We are the developers of Australia's first Unified Threat Management, Crystal Eye, and of Australia's first next-generation firewall.
---
LATEST THREATS, NEWS, and DEVELOPMENTS
---
                            VISIT OUR BLOGS AND NEWS PAGE FOR MORE ARTICLES
---
TRENDS
---
China is on top of the list with 1311 unique attackers (26.5%). 
The exploit events were Command Execution, SQL Injection, Miscellaneous, and Attack Response. 
The Top Alarm was OTX Indicators of Compromise with 187 Occurrences (68.3%).
---
TOP ATTACKER COUNTRIES
---
| | | |
| --- | --- | --- |
| Country | No. of Attackers | Percentage |
| China | 1311 | 26.5% |
| United States | 957 | 19.3% |
| Russian Federation | 316 | 6.4% |
| Brazil | 305 | 6.2% |
| India | 243 | 4.9% |
| France | 232 | 4.7% |
| Republic of Korea | 198 | 4.0% |
| Vietnam | 198 | 4.0% |
| Germany | 154 | 3.1% |
| Netherlands | 136 | 2.7% |
| United Kingdom | 130 | 2.6% |
| Taiwan | 106 | 2.1% |
| Italy | 105 | 2.1% |
| Indonesia | 97 | 2.0% |
| Canada | 93 | 1.9% |
| Ukraine | 82 | 1.7% |
| Thailand | 76 | 1.5% |
| Egypt | 74 | 1.5% |
| Australia | 69 | 1.4% |
| Hong Kong | 64 | 1.3% |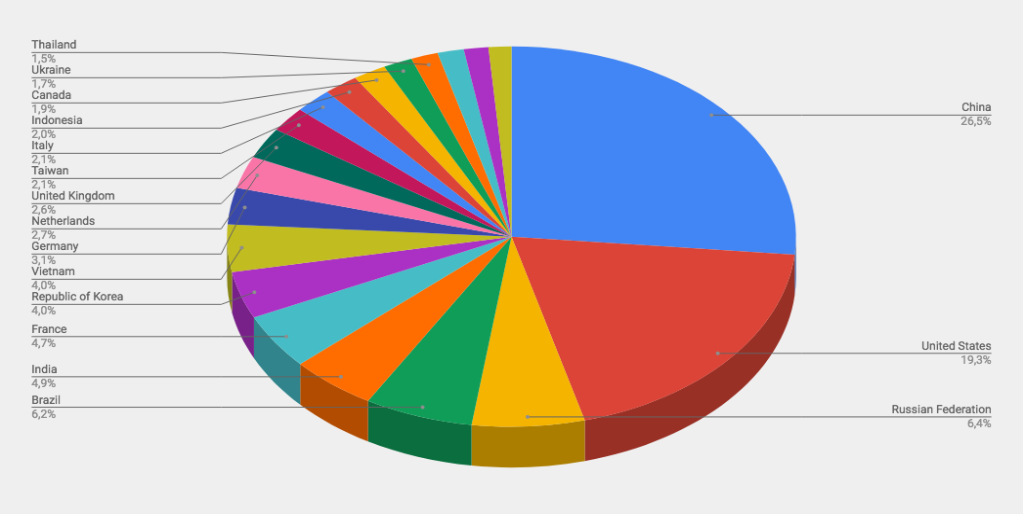 ---
THREAT GEOLOCATION
---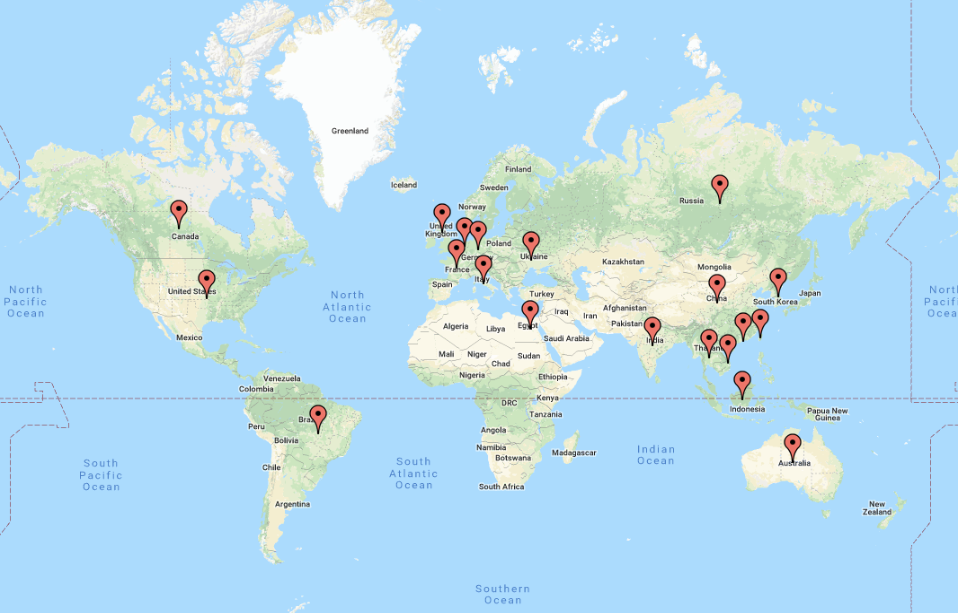 ---
TOP ATTACKING HOSTS
---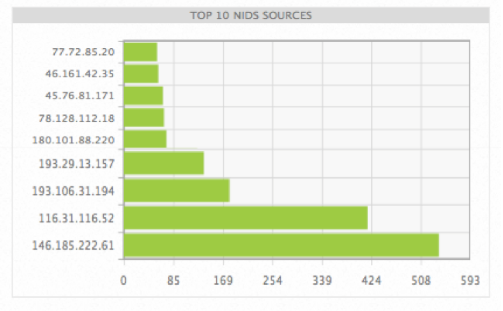 ---
TOP ALARMS
---
| | |
| --- | --- |
| Alarm | No. of Occurrences |
| OTX Indicators of Compromise - PULSE | 151 |
| Bruteforce Authentication - SSH | 41 |
| Database Attack - Stored Procedure Access - Attack | 21 |
| Attack Tool detected - Attack | 8 |
Comparison to Previous Week
| | |
| --- | --- |
| Alarm | No. of Occurrences |
| Bruteforce Authentication - SSH | 187 |
| OTX Indicators of Compromise - PULSE | 147 |
| Database Attack - Stored Procedure Access - Attack | 98 |
| WebServer Attack - Attack | 33 |
| Attack Tool detected - Attack | 29 |
---
EXPLOIT EVENT TYPES AND TOP EVENTS NIDS
---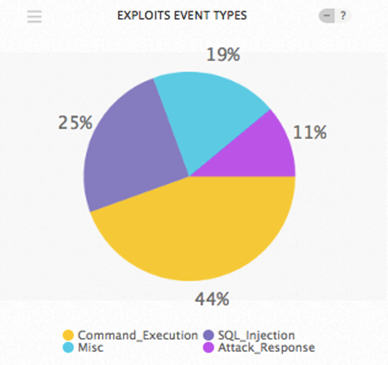 ---
OPEN THREAT EXCHANGE
---
| | | | | |
| --- | --- | --- | --- | --- |
| Pulses Subscribed | Indicators | Last Updated | Number of Alarms | Number of Events |
| 5,737 | 871,918 | 2018-10-01 01:29:35 | 5,554 | 9,195 |
---
VULNERABILITIES
---
2018-09-27

Multiple IBM DB2 Products CVE-2014-0919 Information Disclosure Vulnerability
http://www.securityfocus.com/bid/74217

Multiple IBM DB2 Products CVE-2014-8901 Remote Denial of Service Vulnerability
http://www.securityfocus.com/bid/71734

Multiple IBM DB2 Products CVE-2014-6210 Remote Denial of Service Vulnerability
http://www.securityfocus.com/bid/71730

Multiple IBM DB2 Products CVE-2014-6209 Remote Denial of Service Vulnerability
http://www.securityfocus.com/bid/71729

Multiple Cisco Products CVE-2015-6420 Remote Code Execution Vulnerability
http://www.securityfocus.com/bid/78872

Fuji Electric Alpha5 Smart Loader ICSA-18-270-02 Multiple Security Vulnerabilities
http://www.securityfocus.com/bid/105411

Delta Industrial Automation PMSoft CVE-2018-14824 Information Disclosure Vulnerability
http://www.securityfocus.com/bid/105409

Multiple Fuji Electric FRENIC Devices ICSA-18-270-03 Multiple Security Vulnerabilities
http://www.securityfocus.com/bid/105408
Emerson AMS Device Manager ICSA-18-270-01 Multiple Security Vulnerabilities
http://www.securityfocus.com/bid/105406  
                                                                                                                                    
2018-09-26

Multiple IBM DB2 Products CVE-2014-8910 File Disclosure Vulnerability
http://www.securityfocus.com/bid/75949

Multiple IBM DB2 Products CVE-2015-1935 Denial of Service Vulnerability
http://www.securityfocus.com/bid/75908

SSL/TLS RC4 CVE-2015-2808 Information Disclosure Weakness
http://www.securityfocus.com/bid/73684

Multiple IBM DB2 Products CVE-2015-1922 Security Bypass Vulnerability
http://www.securityfocus.com/bid/75911

Cisco IOS and IOS XE Software CVE-2018-15373 Denial of Service Vulnerability
http://www.securityfocus.com/bid/105413

Cisco IOS ROM Monitor CVE-2018-15370 Local Security Bypass Vulnerability
http://www.securityfocus.com/bid/105412

Cisco IOS and IOS XE Software CVE-2018-0475 Denial of Service Vulnerability
http://www.securityfocus.com/bid/105404

Cisco IOS and IOS XE Software CVE-2018-0466 Denial of Service Vulnerability
http://www.securityfocus.com/bid/105403

Drupal Taxonomy File Tree Module Access Bypass Vulnerability
http://www.securityfocus.com/bid/105401

Cisco IOS XE Software Errdisable CVE-2018-0480 Denial of Service Vulnerability
http://www.securityfocus.com/bid/105400

Drupal Commerce Klarna Checkout Module Access Bypass Vulnerability
http://www.securityfocus.com/bid/105399

Cisco IOS XE Software CVE-2018-0471 Denial of Service Vulnerability
http://www.securityfocus.com/bid/105398

Cisco IOS XE Software CVE-2018-0470 Denial of Service Vulnerability
http://www.securityfocus.com/bid/105397
2018-09-25

IBM DB2 and DB2 Connect CVE-2013-6717 Remote Denial of Service Vulnerability
http://www.securityfocus.com/bid/64336

Apple Mac OS X Server APPLE-SA-2016-03-21-7 Multiple Security Vulnerabilities
http://www.securityfocus.com/bid/85054

Apache HTTP Server CVE-2018-11763 Denial of Service Vulnerability
http://www.securityfocus.com/bid/105414

Linux Kernel 'create_elf_tables()' Function Local Integer Overflow Vulnerability
http://www.securityfocus.com/bid/105407
2018-09-24