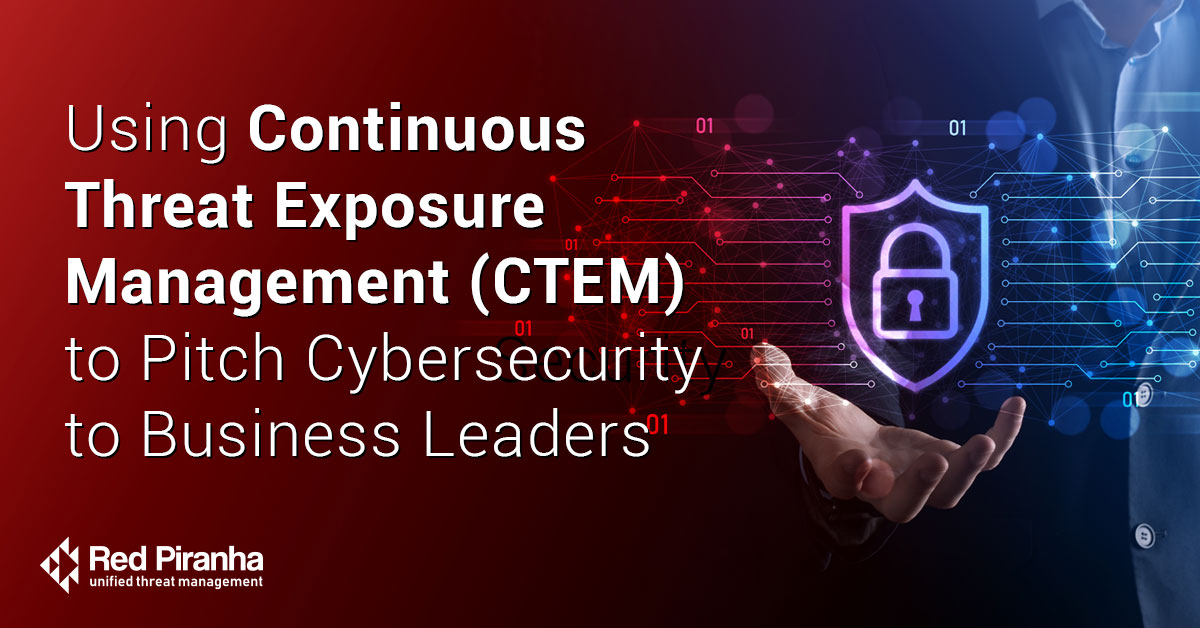 To overcome the one-&-done driver, turn the conversation to unified threat management. It is that simple. You don't need to demonstrate why Cybersecurity requires continual improvement, of course, it does. Focus instead on approaching the problem holistically. The eCSIO™ program does this. Its goal is to maximise return on investment in both technology and people, through processes engineered to engage critical skills and functions, and prevent poor return on technology investments. The program onboards businesses in the use of Red Piranha's Crystal Eye security platform, which allows them to achieve capability based on the depth of their requirements.
Building such a Continuous Threat Exposure Management (CTEM) Program though is no different to the challenges of managing a portfolio of security products. Businesses must still attract and retain the know-how required to manage evolving processes related to the mesh of security solutions. For SMBs this becomes unfeasible, and increasingly expensive for larger organisations, especially when effective management requires automation that integrates risk management with the technologies that protect, detect, respond, and track threats. What the eCSIO™ program provides is a ready-made business function that is at the same time adaptive. Adaptive in that it can be moderated to meet specific circumstance, but also over time to build a security hardened organisation. Like physical security, it is not only the locks and fences that provide it. Key people in the organisation need to be nominated and coached on the implications of threats and overall security posture. Staff need to know what to look out for, how to report potential breaches, and why they should care. And despite how much of the cybersecurity responsibility is outsourced, an organisation still needs to have documented policy to support its enactment. Our Governance, Risk & Compliance (GRC) representatives will guide this process. The program offers templates for different regulatory standards, including ISO 27001, and while some organisations can help achieve this level of certification, they are not themselves 27001 compliant. The insider advantage Red Piranha offers is the practical knowledge obtaining and maintaining accreditation through risk-based adoption strategies that are realistic, and priority-driven.
The journey begins by understanding the current posture, assessing appropriate strategies, and planning objectives aimed at meeting compliance requirements. Annual review in the first-year addresses rapid maturity through the uptake of Crystal Eye technology used to detect and respond to security events. Throughout the year, our GRC reps will be managing deliverables by tracking remediation resulting from both vulnerability management and dynamic changes to business needs or the threat landscape. The goal is to reduce the attack surface and control risks further by mitigating their severity. Cyber Security Awareness Training (CSAT) takes place through a portal designed to be flexible while tracking individual progress. GRC reps meet with key stakeholders monthly and work behind the scenes to prepare and plan for each meet. This establishes the cross-team collaboration needed to achieve security and gives less formal change management the added assist needed to see through remediating exposure. The importance of which cannot be understated. Few breaches occur through zero-day attacks. They occur because of well-known exploits. The eCISO™ program deals with this. It also puts in place an entire Incident Response function. Without which, businesses cannot achieve any form of security accreditation. With the Crystal Eye platform businesses have access to Digital Forensic and Incident Response (DFIR) specialists on an as-needed basis and without the addition of retainer fees commonly applied in Cybersecurity. Red Piranha's procedures become part of any organisation's Incident Response plan for an immediate uplift to CREST-certified standards. To finalise a year of incremental assessment and change, an annual report is produced giving business leaders a clear overview of objectives and outcomes. Reviews are conducted in accordance with CIS (Centre for Internet Security) best practices, and a letter of assurance provides an outline of current standing in relation to security control frameworks and plans for improvement. For many, this will unlock the option of transferring certain risks through cyber insurance.
So don't tell a buyer what they need, tell them how spending will leverage that investment. Get them onto the platform by getting them into the program. It will avoid spending to fix past investments by adopting unified threat management. Red Piranha reps know their solutions and the solutions know their processes. It means that there is a repeatable quality standard passed on through Red Piranha's own 9001 certified quality management. Red Piranha offers this value through scale and engineered efficiencies. To us, unified means years and millions in research and development to consolidate front and backend security mesh architecture, with all the tacit and explicit know-how required to deal with attack techniques and procedures. To decision-makers, all unified need mean is that their investment leverages that spending. One buy to ensure that all other expense will be worth it.
Date Published
August 04, 2022